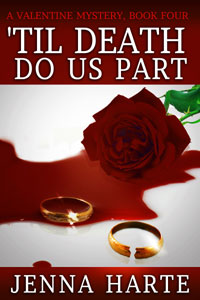 Well, it took a little longer than planned to get this book written, but it's finally ready for you to read.
'Til Death Do Us Part is the fourth book in the Valentine Mystery series. Tess and Jack are living in wedded bliss, until Jack's childhood friend, famous actress Ava Dumont shows up in town to film a movie. Years ago, fans of her popular TV courtroom drama, speculated on whether or not Ava and her handsome co-star, Reece Wilder's off-screen chemistry was as hot as it was on screen. The question was seemingly answered when Reece married Ava's nemesis, D-List actress, Amya Grosse. Now estranged and seeking a divorce, Reece has pushed to do a movie with a reluctant Ava. But, their highly anticipated on and off screen-reunion is ruined when Amya turns up dead in Reece's hotel room. Jack's loyalty and Tess' curiosity put them in the middle of a murder in which everyone they meet had a reason to want to Amya dead. Will they be able to discover the murderer or will 'til death do us part' come much sooner than they'd dreamed?
Along with solving a mystery, Jack starts to resolve feelings about his relationship with the Senator, and Tess and Daniel work though their unresolved issues.
I hope that fans of Jack and Tess will enjoy this next mystery they get embroiled in.
If you've read this new installment, please visit Amazon leave a review.