"Written with precision and care, this intriguing romance/murder mystery is a fun read that will keep readers guessing until the very end." — PUBLISHERS WEEKLY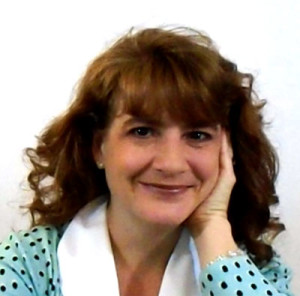 Are you wondering what a empty-nester living in rural Virginia, who works by day as a ghostwriter and online entrepreneur, and by night, as the die-hard romantic author Jenna Harte penning stories about passionate, in-love couples who get into danger might have to share?
I have a few things to talk about related to writing and publishing (self and traditional), and am available for speaking engagements, interviews, and appearances in-person or via web-conference.
You can download a media kit, a complete Q&A interview, or see below for the most current information, including bio, contact, factoids, one sheet, reviews, and interviews and articles.
About Jenna Harte
Jenna Harte is a die-hard romantic writing about characters who are passionate about and committed to each other, and frequently getting into trouble. She is the author of the Valentine Mysteries, the first of which, Deadly Valentine, reached the quarter-finals in Amazon's Breakthrough Novel Award in 2013. She entered into a three-book deal for a romance series, Southern Heat, with Penner Publishing in 2015, but recently got the rights back to those three books and self-published them.
At the urging of her agent, she penned a cozy mystery, the first of which, Death of Debtor, came out in 2019. Death of a Coupon Queen released in July 2021, and she's finished the third book, Death of a Miser should release in 2022. The Sophie Parker Coupon Mysteries are ideal for cozy readers who like quirky characters and humor in their mysteries.
She has a bundle of stories filled with romance, mystery, and even time travel rattling around in her head, and is eager for the day when a device is invented allowing her to download what's in her brain onto her computer.
When she's not telling stories, she works by day as a romance ghostwriter and online entrepreneur. She lives in central Virginia with her husband and a nutty cat.
Connect with Jenna
Jenna Harte Author page at Amazon
Email: Use this contact page to email me.
Twitter
Facebook Fan Page
Pinterest Jenna Harte
Goodreads
Instagram Jenna Harte Author
5 Things You Didn't Know About Jenna (But Hopefully Will Find Interesting!)
1) Writing always terrified me, so I'm baffled to how I got here.
2) My favorite fiction involves mystery and romance, but I prefer a mystery with romance as opposed to a romance with mystery, if that makes any sense. In either case, there should be at least one hot love scene!
3) My favorite authors are J.D. Robb, Janet Evanovich, Sandra Brown and Carl Hiaasen. I also love Jane Austen, but tend to stay away from literature unless I know it will end well.
4) Like my character Tess, I love good chocolate and old R&B tunes. I'm still working on getting Carine Gilson lingerie to see if I'd love them as much as Tess does. A set can cost several hundred dollars, so I have to wait until more books sell.
5) I long for the day when Apple or Microsoft invents a doodad that I can plug into my head, preferably when I'm sleeping, that will download my stories to my computer. My stories come to me when I sleep (and when I drive), but I can't remember the details when I sit down to write.
Jenna's Books
Valentine Mysteries
You can check out all the Valentine Mysteries and other books by Jenna through her author page at Amazon.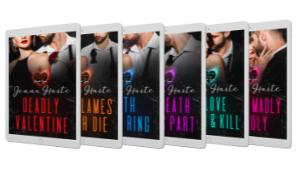 Deadly Valentine: A Valentine Mystery Book One : ISBN: 978-0-9881770-1-7
"Written with precision and care, this intriguing romance/murder mystery is a fun read that will keep readers guessing until the very end." – Publisher's Weekly
Deadly Valentine reached the quarter-finals (top 100) for romance in Amazon.com's Breakthrough Novel Award in 2013.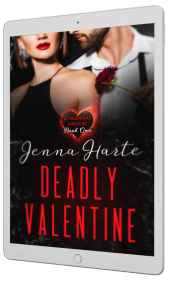 Tess Madison walked away from her two-timing fiancé, a multi-million dollar trust fund and a cushy corporate law job to pursue the single life indulging in chocolate and fancy French underwear. But her newly reordered life comes unraveled when she reluctantly accepts an invitation to a dinner party and stumbles upon the host's dead body. Now Tess is in the middle of a murder investigation pitting her wannabe-boyfriend police detective against Jack Valentine, a man from her past with blue-green eyes and sinful smile that causes her to rethink her self-imposed celibacy. Tess has many reasons to avoid Jack including the fact that he's the prime suspect in a murder. But Tess doesn't believe Jack's the murderer and with an honest attempt to keep her hormones in check, she agrees to represent him. With Jack's help, she uncovers a 30-year-old secret someone is killing to keep hidden and discovers sensual delights that don't include chocolate or French underwear. But when her professional and personal relationship with Jack threatens to ruin her career and end her life, Tess has to decide if Jack, is worth the risk.
You can check out all the Valentine Mysteries and other books by Jenna through her author page at Amazon.
Reviews of Deadly Valentine
Publisher's Weekly: "Written with precision and care, this intriguing romance/murder mystery is a fun read that will keep readers guessing until the very end."
My Cozy Corner: "Jenna pens "Deadly Valentine" a real page turner filled with mystery and romance."
Inside BJ's Head: "I totally could not believe how many twist and turns this book had the reader going on…I swear I thought I had the story figured out, Heck NO!"
My Daily Obsession Review: "This book was beautifully written. I could hardly put it down!"
TE Garden of Book Bloggers: "EXCELLENT! Absolutely Great!… Once I picked the book up, I couldn't put it down! I read looong into the night…"
Check out more reviews here.
Southern Heat

Drawn to Her
This book was absolutely brilliant and I thoroughly enjoyed it.~ PLeslie at Goodreads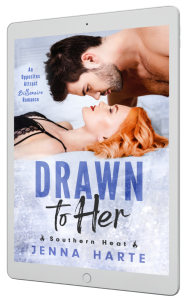 Feisty and outspoken, Lexie McKenna will do anything to protect her cantankerous and ailing patient—even if it means going up against his cold and calculating, but sexy and irresistible grandson. After all, as a nurse, her number one priority is her patient.
Drake Carmichael doesn't trust the nurse who's taking care of his grandfather—despite how adorable and compassionate she seems. He refuses to let her get her grips into their hard-earned money. But as the two square off and begin to battle about what is best for the dying man, Lexie and Drake realize they know very little about each other and that first impressions are deceiving. Once they finally give into their desires, the battle has only just begun.
With a fight between family and fortune, love and lust, will either one be able to find the southern comfort they both truly crave?
You can check out all the Southern Heat romances, and other books by Jenna through her author page at Amazon.
Reviews of Drawn to Her
Wow. What a roller coaster ride of emotions! This book will hook you and take you for a ride. I was frustrated, angry, upset, sad, elated at various points within the story and I LOVED it! ~ Kelly's Book Blog
This book was absolutely brilliant and I thoroughly enjoyed it.~ PLeslie at Goodreads
Overall, I found this North vs. South clash of cultures/wills quite entertaining. The writing style flowed, and I was so fully engaged I couldn't put it down. ~ A Klue from Goodreads
Drawn to Her was definitely a fun read that left me in a good mood when I was done. ~ Lauren from Goodreads
Author Jenna Harte has created an attention-grabbing opening to her series, with a quick-paced story that is full of characters readers will fall in love with and enjoy even after they've finished the first book. ~ Mary-Nancy Smith, InD'tale Magazine
Read more reviews on Amazon, Goodreads and Barnes and Noble.
Jenna Harte Interview One Sheet
You'll find more questions in her media kit and complete interview on the Q&A sheet.
When did you start writing fiction?
I'm not one of those writers that always knew I wanted to write, but I used to write fan fiction when I was a 'tween. This was long before the Internet or the term "fan fiction." What's most interesting is that I wrote the same types of stories — a committed couple that gets into trouble — but without the more sensual details I include now. I didn't start writing original fiction until I was an adult after I rediscovered fan fiction and built up a fan-base. In fact, one of my stories was stolen, twice. That's when I thought maybe I had talent. I gave the story to my sister, who's an avid reader, and she encouraged me to write something original.
How did you come up with Deadly Valentine and the characters of Jack and Tess?
Deadly Valentine is the result of over 15 years of percolating in my brain. I always knew I wanted to write passionate, romantic characters who were deeply in love and committed, who get involved in mysteries, like a modern day Nick and Nora Charles. But I discovered that making up characters, with their quirks, temperament, and backstory is harder than writing about someone else's characters. So it took time for them to become "real" people. Now, after several books, it's much easier to write about them because I know them so well.
What was the hardest part of your writing process?
I struggle with several areas. I can come up with interesting ideas, but I have difficulty fleshing them out into the complex relationships and plots needed for a book. The other is shutting down the inner critic during the first draft when my goal is just to get the ideas and concepts on the page. Finally, I come up with terrific dialogue and sentences when I'm sleeping, running, driving…all the times that I can't write, but when I sit down to write, it never comes out as well. That's why I'm waiting for an app that will download my brain. Then all I have to do is edit.
Why do you use a pen name?
It's not because I don't want my mother to know what I write about. In fact, my mother and step-mother have both beta read for me, although I do blush a little when I think about them reading some of the love scenes. I chose to use a pen name to keep my non-fiction writing separate from my fiction since I've already created a brand around my real name.
Why did you decide to self-publish your Valentine books but went with a traditional publisher for the Southern Heat books?
I pitched Deadly Valentine to several agents and got good feedback, but no takers. The series doesn't fit the cozy because I include love scenes. Because it doesn't fit nicely into the genre, it was suggested that I ramp up the heat and sell it as a romance. But I knew I wanted to do a series.
The positive comments indicated to me that I had something good. I was hearing a lot about self-publishing, so I thought I'd try it. The positive reviews and reaching the quarter finals in the Amazon.com Breakthrough Novel Award has made me feel as legitimate as a traditionally published author, because ultimately, it's about the readers. If they like the book, that's what matters most.
As far as going with a traditional publisher for the Southern Heat series. It's a long story, but ultimately, traditional publishing still carries extra clout, even if it doesn't necessarily pay as well. With traditional publishing, I don't have to pay for covers and editing, which is nice. I still have to market it. There's no difference in that between self- and traditional publishing.
What is next for your writing?
I'm just finished Wed to You, book three in Southern Heat, I'm writing a new cozy mystery, and am plotting book six in the Valentine series. I have several other stories that are vying for attention, but I'm not sure which I'll work on next. I have ideas that include paranormal, time travel, or a mystery series involving a private investigating couple.
Past Appearances
Suffolk Mystery Festival – Three years
Suffolk Mystery Festival 2022 Panel Appearance – Do Not Disturb: Fashioning the Perfect Romance
Virginia Writers Club Symposium – Four years
Malice Domestic – 2 years (See image Putting the 'Fun' in Murder with Jeff Cohen, Valerie Burns, Patti Ruocco, Jenna Harte, Catriona McPherson, Teresa Trent, from Dru's Book Musings, 2019)
August 6, 2016 – Navigating Your Writing Life Symposium (Romance Panel), Charlottesville, Virginia
April 8, 2017 – Roanoke Author Invasion
Articles/Interviews/Press Releases
How to Write More in Less Time with Voice Recognition – Fiction University
Easy Ways to Incorporate Backstory Into Your Novel – Fiction University
Tips on Writing the Boring Stuff Readers Tend to Skip – Fiction University
Sell More Books with a Marketing Mindshift – Fiction University
Market Your Book Before It's Written – Fiction University
A Day In the Life of Sophie Parker – Dru's Book Musings
The Dual Life: Writing Under Two Names – Southern Writers Magazine Blog
Digital Book Formatting – FundsForWriters.com
10 Things I Learned from NaNoWriMo – Andi's Book Reviews
No Writer's Block – Tigris Eden's Garden of Books
Past Regular Contributor at The Pearls of Writing Wisdom