The Valentine Mysteries are a series of sexy, mysteries featuring Tess Madison, a chocolate and couture French underwear connoisseur, and Jack Valentine, her handsome, environmentalist, pteromerhanophobic (fear of flying) love interest. The series blends the love and passion romance readers enjoy, with a small-town mystery cozy readers like. If you want to follow the romance (sexy bits and all) of a couple who frequently get into trouble, the Valentine Mysteries are for you.
Check out the romance, mystery and fun found in the Valentine Mysteries.
Deadly Valentine
"Written with precision and care, this intriguing romance/murder mystery is a fun read that will keep readers guessing until the very end." – Publisher's Weekly
NEW… Get Deadly Valentine for free!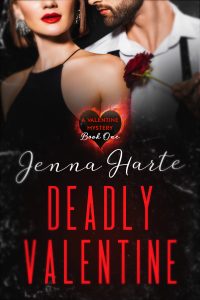 Tess Madison walked away from her two-timing fiancé, a multi-million dollar trust fund and a cushy corporate law job to pursue the single life indulging in chocolate and fancy French underwear. But her newly reordered life comes unraveled when she reluctantly accepts an invitation to a dinner party and stumbles upon the host's dead body. Now Tess is the middle of a murder investigation pitting her wannabe-boyfriend police detective against Jack Valentine, a man from her past with blue-green eyes and sinful smile that causes her to rethink her self-imposed celibacy. Tess has many reasons to avoid Jack including the fact that he's the prime suspect in murder. But Tess doesn't believe Jack's the murderer and with an honest attempt to keep her hormones in check, she agrees to represent him. With Jack's help, she uncovers a 30-year-old secret someone is killing to keep hidden and discovers sensual delights that don't include chocolate or French underwear. But when her professional and personal relationship with Jack threatens to ruin her career and end her life, Tess has to decide if Jack, is worth the risk.
Get a digital copy for Kindle or other e-readers free by signing up for my newsletter here or use the form to the right in the sidebar.
Reviews of Deadly Valentine: (From Amazon)
"This story is such a page turner!! "
"…after page one I could not put this one down! "
"He tasted like chocolate and sin." More please. "
Grab the next 5 Books in the set for half off! Learn more here
Old Flames Never Die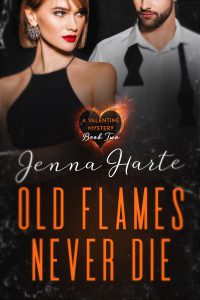 Tess Madison is jobless, homeless and hopelessly in love with the sexy, blue-green eyed Jack Valentine. But their new love is put to the test when the husband of an old flame of Jack's is murdered. Jack thinks she innocent and vows to help her. Tess isn't so sure and with the help of her friend and Jack's nemesis Detective Daniel Showalter, she joins the investigation. Now Tess is pitted against Jack and as they each seek answers, not only do they put their love at risk, but their lives as well.
Old Flames Never Die at Amazon (Kindle and Print)
Old Flames Never Die at Barnes and Noble (Print)
Reviews of Old Flames Never Die(From Amazon)
"Great story about really trust, love, and patience."
"What an outstanding follow up to Deadly Valentine!!! "
With This Ring, I Thee Kill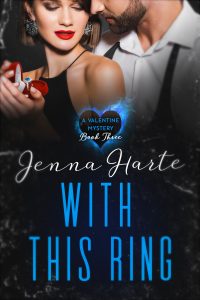 Wedding bells are in Jack and Tess' future, that is, if the people trying to kill them for Tess' engagement ring don't succeed. Together Jack and Tess research the ring to discover why people are willing to kill to possess it. Their investigation takes them back to 18th century France, when black magic and potions were used to secure love, power and status. Tess' friend, an expert in French antiques, agrees to help, but is she really helping or is she behind the plot? And will Jack and Tess make it to their wedding day or will fate tear them apart forever?
With This Ring, I Thee Kill at Amazon (Kindle, Print)
With This Ring, I Thee Kill At Barnes and Noble (print)
Reviews of With This Ring, I Thee Kill (From Amazon)
"Jenna Harte has taken one of history's greatest jewels and woven a sparkling adventure of love and suspense. A Very Good Read!"
"Another outstanding addition to the series. I love the chemistry that this author has created between Tess and Jack."
'Til Death Do Us Part, Valentine Book 4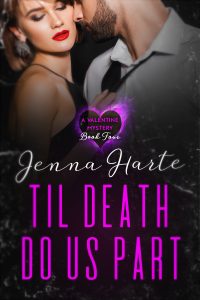 Tess and Jack are living in wedded bliss, until Jack's childhood friend, famous actress Ava Dumont shows up in town to film a movie. Years ago, her popular courtroom drama television show, fans speculated on whether or not Ava and her handsome co-star, Reece Wilder's off-screen chemistry was as hot as it was on screen. The question was seemingly answered when Reece married Ava's nemesis, D-List actress, Amya Grosse. Now estranged and seeking a divorce, Reece has pushed to do a movie with a reluctant Ava. But, their highly anticipated on and off screen-reunion is ruined when Amya turns up dead in Reece's hotel room. Jack's loyalty and Tess' curiosity put them in the middle of a murder in which everyone they meet had a reason to want to Amya dead. Will they be able to discover the murderer or will 'til death do us part' come much sooner than they'd dreamed?
'Til Death Do Us Part at Amazon (Kindle and print)
'Til Death Do Us Part at Barnes and Noble (Print)
Reviews of 'Til Death Do Us Part (From Amazon)
"Bottom line, I think this series is one of the best I have read, and I look forward to more books in the series."
"So happy to spend some more time with Tess and Jack. A great mystery and a great love story."
To Love, Honor, and Kill, Valentine Book Five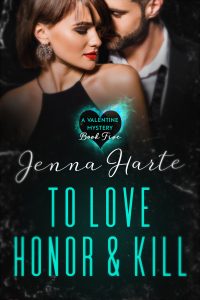 The biggest challenge in Tess Valentine's life is deciding what chocolate confection to make for her husband, Jack's upcoming birthday. That is until she finds herself refereeing between her long time friends Detective Daniel Showalter and TV broadcast journalist Kate Wells, who've decided to investigate the fifteen-year old murder of a young woman, and asked for Tess' help. The investigation is made more complicated by Daniel and Kate's undeniable attraction toward each other, yet inability to work well together, especially since Daniel has a secret about the murdered young woman. Wanting to avoid losing both friendships, Tess extricates herself from the investigation to focus on spending time with Jack who's dealing with his own family issues involving his grandmother Cora and Senator Worthington. But someone doesn't want the truth to come out about the long ago murder and is willing to kill again to keep the secret hidden. To keep her friends safe, Tess rejoins the investigation. The question is, can they discover who the murderer is before one of them becomes the next target?
To Love, Honor, and Kill, Valentine Book Five (Amazon)
To Love, Honor, and Kill, Valentine Book Five (Barnes and Noble)
Reviews of To Love, Honor, and Kill (From Amazon)
"I really enjoy the Valentine mysteries, and Number Five was definitely worth the wait!"
"Absolutely love the case Jenna Harte takes us on, and true to form takes us on many twists and turns…"
"Another great Valentine book."
Truly, Madly, Deadly: Valentine Book Six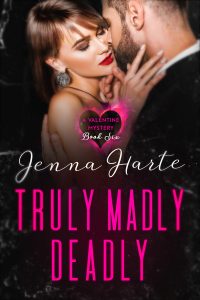 Tess Valentine's only goals for her trip to her home city of San Francisco are to legally take over her trust and to show her sexy husband, Jack Valentine, the sights of the city. She certainly has no plans of visiting her parents, who have resented her since her grandfather gave her the trust money her parents thought should go to them. When her parents invite her to dinner, Tess reluctantly agrees, despite her concerns that her parents may once again resort to unscrupulous tactics to try and take her trust. The last thing she expects on her visit is for her father to be arrested for the murder of his mistress.
Tess has no intention of helping her father despite her mother's pleas. But when her cousin, the lawyer Tess' father hires to represent him and the one family member who'd ever been nice to Tess, asks for Tess' help in the case, she agrees to investigate. Turns out several people could have wanted her father's mistress dead, including the victim's sister, a disgruntled employee, and even Tess' mother, who is all of a sudden very cozy with Tess' trust lawyer. But as Tess and Jack get closer to the truth, a murderer's obsession is prepared to stop them.
Get Truly, Madly, Deadly at Amazon
Reviews of Truly, Madly, Deadly (from Amazon)
"Fabulous! I really enjoy this series, but this installment just might be my favorite."
"I couldn't stop reading and all I can say is that it is an amazing, thrilling, exciting, lovely…"
"This is the book you want to take with you everywhere so you can read it whenever you have a free minute."
Save
Save
Save
Save
Save
Save
Save