UPDATE – The sneak peek to Old Flames Never Die was removed to meet TOS of Amazon's KDP Select program. Old Flames Never Die is now available for purchase for $2.99 at Amazon.
Last week I sent the complete manuscript of Old Flames Never Die to my editor, which means it will be ready for publishing very soon. For those of you who'd like a little sneak peek of what's to come in book 2 of the Valentine Mysteries, I've got a treat for you! You can read the first few chapters here: Old Flames Never Die Sneak Peek
I'm still working on the blurb, but so far I have:
Tess Madison is jobless, homeless and hopelessly in love with the sexy, blue-green eyed Jack Valentine. But their new love is put to the test when the husband of an old flame of Jack's is murdered. Jack thinks she innocent and vows to help her. Tess isn't so sure and with the help of her friend and Jack's nemesis Det. Daniel Showalter, she joins the investigation. Now Tess is pitted against Jack and as they each seek answers, not only do they put their love at risk, but their lives as well.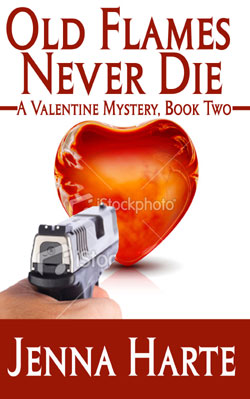 I've got a mock up of the cover as well. It still needs work and I haven't bought the art yet, but here's a peek at what's created so far.
By the way, Deadly Valentine, book one in the Valentine Mysteries is now available for Nook, other ereader formats, and in print.
If you have any feedback, please let me know. You can comment below or contact me here.