It's here! You can now buy all three Southern Heat books, Drawn to Her, Meant to Be, and Wed to You, in one complete set!
Come enter the world of Charlotte Tavern, Virginia, where romance is as hot and steamy as the Piedmont region. Meet the pixie-like Lexie McKenna, and discover why Drake can't help but be Drawn to Her. Find out if Lexie's brother, Detective Mitch McKenna, can ever learn to trust Dr. Sydney Preston to share a love that was Meant to Be. Then, root for Lexie and Mitch's long-time friend, Chelsea Beemer, as she helps a broken Jagger Talbot fight to retain custody of 5-year old Kaden through a marriage of convenience in Wed to You.
Don't worry about buying each individually, because now you can grab all three (for less than buying them individually) in a single ebook boxed set at your favorite online retailer:
Drawn to Her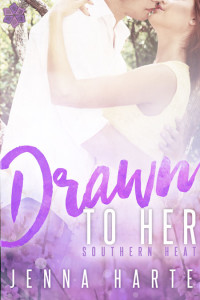 In Drawn to Her, Feisty and outspoken, Lexie McKenna will do anything to protect her cantankerous and ailing patient—even if it means going up against his cold and calculating, but sexy and irresistible, grandson. After all, as a nurse, her number one priority is her patient.
Sample of 5-Star Reviews on Amazon:
I really enjoyed reading this book. I finished it in two days, I just couldn't put it down. I thoroughly recommend this book to anyone who wants a good love story! I was given a free copy of the book for an honest review. ~ Julie

This book is a must read. The story has a great story line and the characters have a real feel to them that you can relate to. ~ Marian

Meant to Be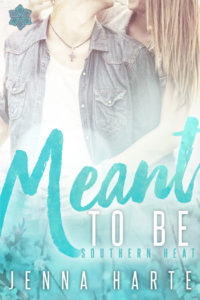 In Meant to Be, charming and sexy, detective Mitch McKenna lets women into his bed—not into his heart. When his first love left him in a lurch, crushing his soul, Mitch swore off relationships and love. After all, any woman who chooses what her parents want over what she wants is not worth fighting for.
Or is she?
Successful New York doctor, Sydney Preston left the only man she ever loved to follow the path that her parents paved for her. When a tragic incident at the hospital threatens her life, Sydney moves to Virginia to rekindle the spark with her ex-fiancé. But Mitch isn't interested in reigniting the flame that fizzled out long ago. Will they both allow resentments and misunderstanding spoil their chance of discovering what was meant to be?
Sample of 5-Star Reviews on Amazon:
This is the first book that I've read by this author, and OMG did I ever LOVE IT! ~ Jennifer
The writing was excellent, and the pacing of the story really kept me engaged. I couldn't put the book down and am so excited for book 3! ~ Kerry
Wed to You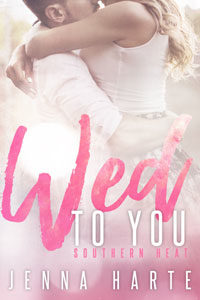 In Wed to You, irresistible playboy, Jagger Talbot left his flashy life in New York to properly take care of Kaden, a little boy he vowed to raise, gaining custody when the Kaden's father died and his mother ran off with another man. Starting over in Virginia seemed like the perfect beginning. But when the boy's mother comes back, clean and sober, fighting for custody, Jagger knows he needs a miracle to prove he's what the child needs.
That miracle is Chelsea Beemer, sweet, perky kindergarten teacher. Down and out, and no stranger to tragedy, Chelsea is on the verge of losing her family home. She'd do anything to save the house—and herself—even marry the sexy playboy. Now it's up to them to "play house" and convince everyone that they have perfect little family. But are any of them really pretending?
Sample of 5-Star Reviews on Amazon:
Wed to You was absolutely amazing and I thoroughly enjoyed it. ~ PL
This is the third book from Jenna Harte's Southern Heat series and it is fantastic. In fact, it was so good that I read it from cover to cover in less than a day. ~ LJT
Don't wait… grab Southern Heat Boxed Set now!