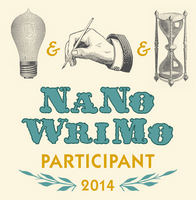 What do National Novel Writing Month (NaNoWriMo) and the Valentines have in common? I'll be writing the draft of the fifth Valentine book for NaNaoWrimo, that's what! In it we'll see what happens between Daniel and Kate … if anything … and learn about secrets in Daniel's past that even Tess doesn't know about. Plus we may learn the truth about Jack's father and of course, Jack and Tess will do what they do best… if you know what I mean.
I want to thank all of you who love Jack and Tess and enjoy their stories. I have many more planned!
In other news, I just sent an email to an agent for help in selling a manuscript that has been sitting with an editor for 20 months. I guess it shows just how patient I can be. I have a Delecoeur novella submitted to an e-publisher that I hope to hear back on within the next month or so.
I'm also working on something entirely new, which I think will fit into the New Adult category. It involves vampires, but I'm working on a new take and am researching real-vampire lore (if "real" is the right word) to create their history.