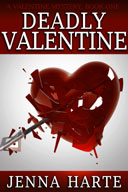 With a name like Harte and book series called Valentine, it's no wonder Valentine's Day is popular around here. And to celebrate, you can get Deadly Valentine, Book One of the Valentine series for free now until Feb. 14, 2014. Plus, you can get the next two books in the series, Old Flames Never Die and With This Ring, I Thee Kill at a discount of 30% off (only $1.99) also until Feb. 14, 2014.
The Valentine books follow the lives of Tess Madison, a French-lingerie loving, chocolate connoisseur and her handsome leading man Jack Valentine. It's just the right mixture of mystery, romance and fun!
And if you enjoy them, the fourth book, 'Til Death Do Us Part, is in it's final stages of editing. I'll be giving away the first few chapters on Friday, February 14th. Watch for details, here, on Twitter or Facebook for a release date.