Join me and 10 other authors on April 25, 2019 for the Death of a Debtor Takeover Party held online. The fun starts at 2 pm eastern and runs until 8 pm. You can join in any time, even after 8 pm. There will be fun, prizes, freebies and more! To learn more and RSVP visit the Death of a Debtor event page.
About Death of a Debtor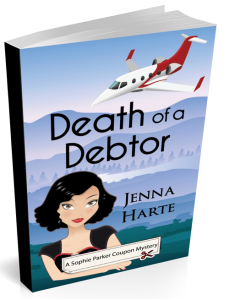 Forced to move back home to the Blue Ridge Mountains of Virginia after her father and brother end up in jail for running a Ponzi scheme, Sophie Parker does the best she can. While living with her curmudgeonly aunt, she works as a wench waitress at a pirate-themed restaurant and learns the ins and outs of discount shopping through a coupon group.
Life goes from bad to worse when an innocent airplane ride with her former teenage crush, AJ, leads to her being picked up by the police. The plane's indebted owner has been murdered, and he's the man who helped put her father in jail.
What started as a curiosity has now turned into a quest to make sure she isn't arrested. Armed with gossip from the women in her coupon group, and her cantankerous aunt, Sophie sets out to find out who killed the ruthless businessman minutes after she flew off with AJ.