Death of a Debtor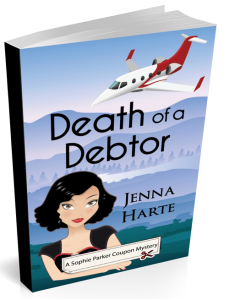 Forced to move back home to the Blue Ridge Mountains of Virginia after her father and brother end up in jail for running a Ponzi scheme, Sophie Parker does the best she can. While living with her curmudgeonly aunt, she works as a wench waitress at a pirate-themed restaurant and learns the ins and outs of discount shopping through a coupon group.
Life goes from bad to worse when an innocent airplane ride with her former teenage crush, AJ, leads to her being picked up by the police. The plane's indebted owner has been murdered, and he's the man who helped put her father in jail.
What started as a curiosity has now turned into a quest to make sure she isn't arrested. Armed with gossip from the women in her coupon group, and her cantankerous aunt, Sophie sets out to find out who killed the ruthless businessman minutes after she flew off with AJ.
Advanced Reviews of Death of a Debtor

Excerpt from Chapter One of Death of a Debtor
"We don't hire people like you, Miss Sophie Parker."
At the mention of my name, I looked up from my resume I was reviewing. I needed this job, so I wanted to make sure I covered all the salient points in the interview. Not that there were many. I had two things going against me:  a useless college major, and no marketable job skills. I hoped my ability to learn fast would get me the job at Denny Coker's bail bondsman business. That hope quickly faded as I looked into the pinched-faced middle-aged woman wagging a bony finger at me.
"Like what?"
"That look like you. Or criminals."
I blew out a breath. The criminal comment wasn't anything new. I'd been hearing it ever since I moved back home to Jefferson Grove, Virginia, six weeks ago. But in the few other job interviews I'd gone on and not been hired because of my family's criminal history, I hadn't been screened out because of my appearance.
I glanced at my wardrobe. Yes, my clothes were mostly used, but I bought them at the thrift shop closest to the affluent Monticello Heights neighborhood. The black, one-size-too-big skirt was Anne Klein, and the white Talbot blouse, while a little snug around the girls, wasn't risqué.
"What's wrong with how I look?" I glanced toward the very pregnant receptionist for help, but all I got was a shrug and a bored expression.
The woman wearing a drab olive-colored dress that hung loose over her stick-thin body glowered at me. It occurred to me that if her face was the same color as her dress, she could pass as the Wicked Witch of the West.  "We run a Christian establishment here," she said. 
"This is a bail bondsman place. You work with criminals."
"They're clients, not employees. And Mr. Coker doesn't need a temptress like you luring him into sin."
I chanced a look at the pregnant receptionist and wondered if she'd lured him. Or maybe Mr. Coker was a frequent visitor to Booty Burgo, a pirate-themed sports bar where I currently worked as a wench waitress until I could find a real job.
"I need a job. I'll wear baggy clothes and no makeup."
"And what will keep you from robbing us blind?"
"I'm not a crook." It was true, even though it wouldn't matter.
"The fruit doesn't fall far from the tree. Does your brother share a cell with your father?"
Having had this discussion more times than I could count, I stood. "Sins of the father, I get it. But I'm not sure Jesus would agree."
"Well!" The woman blustered. "You can't talk to me like that."
"I can because you're not the boss of me." There was no sense in trying to be polite anymore.
The receptionist snickered. The muscles and veins on the witch's forehead and neck throbbed to the point I worried she might explode. I took a step back, just in case.
The door opened behind the receptionist and a portly disheveled fiftyish man appeared. He had barely any hair, but what he did have, he apparently didn't think needed care, as its greasy strands clung on his shiny head. "Ms. Parker? Ready for the interview?"
"I was, but I don't think I'll be a good fit."
Immediately his eyes went to the old witch. "Madge, what did you say to this poor girl?"
"You know what I said. I told you I was going to say it."
Mr. Coker rolled his eyes and looked toward me. "You'll have to excuse my wife. She's under the mistaken assumption she works here."
Wife. That made sense. He moved closer to me, his eyes scanning me from head to toe. Perhaps the wife was right about the temptress thing. His leering made me want to gag and take a shower.
"Why don't you come into my office? We'll talk. I knew your dad, though I was smart enough not to invest with him. There was something shifty about him. But I can see you're not like that."
A tug-of-war battled in my brain. I needed this job. I didn't want to spend my life schlepping burgers and beer in a wench uniform. But I didn't want to work for a lecher or his mean wife, either. On the other hand, what was the difference working for a lecher versus serving them in a pirate-themed sports bar? It might be easier to avoid one man's attempt to grab my butt versus a whole bar of them. Still, Madge was part of the deal, and I didn't need a hostile workplace on top of everything else I had to cope with.
"Thank you so much, Mr. Coker. I appreciate the opportunity, but I'm going to have to pass."
His jovial demeanor dropped a notch. "There isn't anyone else in town, besides the Booty Burgo, who'll hire you. Not after what your father and brother did."
So far, that was true. I interviewed for the job at the local bank and, while sympathetic to my situation, Mr. Bryson couldn't hire me. "It would make our patrons uncomfortable to have a member of the Parker family around their money." The public school never responded to my applications as a substitute teacher and classroom assistant for the upcoming school year. Dax Hampton, the local big wig real estate broker laughed and hung up the phone when I followed up on my application for an administrative assistant position. I wasn't qualified for the other job openings in Jefferson Grove. I didn't have a social work or accounting degree, so that eliminated the child welfare job at the county Department of Social Services or an auditor with the County Treasurer. Going to another town wasn't viable either. Jefferson Grove was the metropolis compared to all the tiny Virginian Blue Ridge towns surrounding it, which meant a significant commute to find work in a larger town. So, the smart thing would be to interview with Mr. Coker.
"I appreciate your considering me. I really do." I glanced at Madge. "But I just can't."
Because I didn't want to be talked out of it, I turned and left the bail bondsman's office as quickly as possible. I sat in the Brown Bomber, the name of my poop brown Volvo wagon, which, at thirty, was three years older than me. It was ugly, beat up, and big enough to live in, which might be a real possibility if my luck continued to tank.