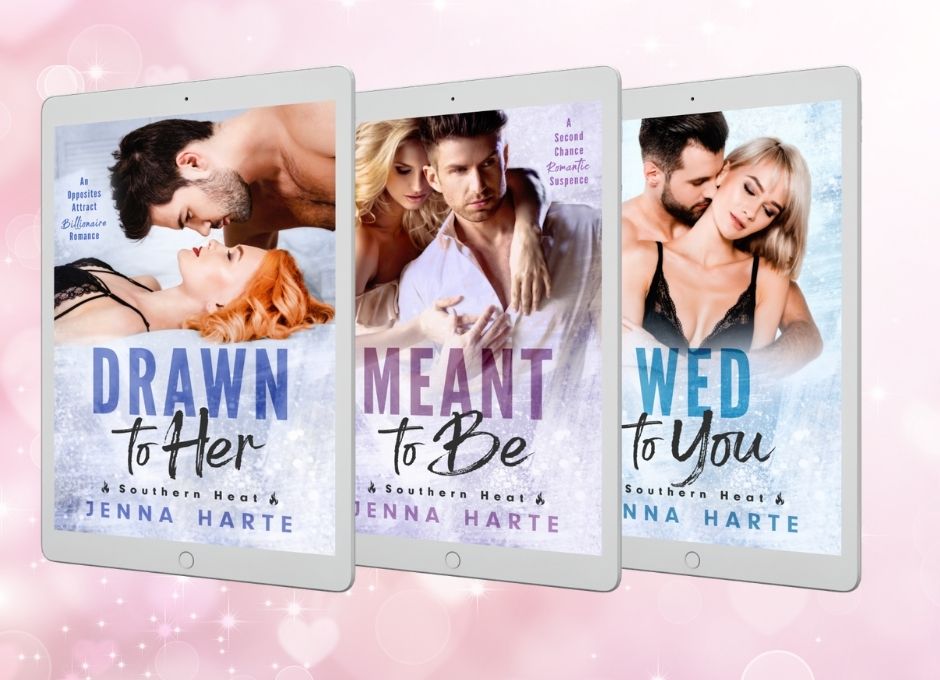 Welcome to Charlotte Tavern, Virginia where things tend to heat up during the summer!
Set in a rural area sitting at the base of the Blue Ridge Mountains, each Southern Heat romance involves a Virginian and a New Yorker.
If you like romance and the south, then you'll want to check out the Southern Heat series.
Drawn to Her: Southern Heat Book One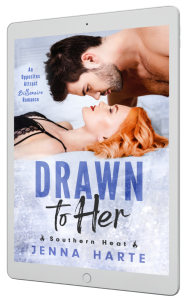 Feisty and outspoken, Lexie McKenna will do anything to protect her cantankerous and ailing patient—even if it means going up against his cold and calculating, but sexy and irresistible grandson. After all, as a nurse, her number one priority is her patient.
Drake Carmichael doesn't trust the nurse who's taking care of his grandfather—despite how adorable and compassionate she seems. He refuses to let her get her grips into their hard-earned money. But as the two square off and begin to battle about what is best for the dying man, Lexie and Drake realize they know very little about each other and that first impressions are deceiving. Once they finally give into their desires, the battle has only just begin.
With a fight between family and fortune, love and lust, will either one be able to find the southern comfort they both truly crave?
Read an excerpt from Drawn to Her.
Advanced Reviews for Drawn to Her:
C.H. Armstrong, author of Edge of Nowhere:
Jenna Harte is truly a talented author who completely nails the chemistry between the main characters in the first few moments of their appearance together on a page.

Read more reviews of Drawn to Her on Amazon.
Meant to Be: Southern Heat Series Book Two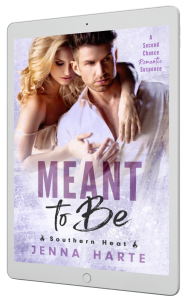 Charming and sexy, detective Mitch McKenna lets women into his bed—not into his heart. After his first love broke his heart and skipped town, Mitch has sworn off relationships and love.  After all, any woman who chooses what her parents want over what she wants is not worth fighting for.
Or is she?
Successful New York doctor, Sydney Preston followed the path that her parents paved for her. When a tragic incident at the hospital threatens her life, Sydney moves to Charlotte Tavern, Virgnia to rekindle the spark with her ex-fiance. But Mitch isn't interested in reigniting the flame that fizzled out long ago. Will they both allow resentments and misunderstanding spoil their chance of discovering what was meant to be?
Amazon Reviewer: Meant To Be is a perfect example of Jenna Harte's expertise in composing a believable romance, full of second chances, broken promises, baggage from dangerous situations, lack of trust, lots of passion, and with an acceptable ending.  Read more reviews on Amazon.
Wed to You: Southern Heat Book 3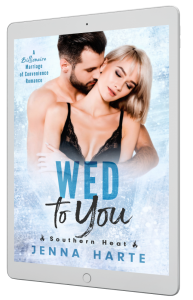 Irresistible playboy, Jagger Talbot left his flashy life in New York to properly take care of Kaden, a little boy he vowed to raise, gaining custody when the Kaden's father died and his mother ran off with another man. Starting over in Virginia seemed like the perfect beginning. But when the boy's mother comes back, clean and sober, fighting for custody, Jagger knows he needs a miracle to prove he's what the child needs.
That miracle is Chelsea Beemer, sweet, perky kindergarten teacher. Down and out, and no stranger to tragedy, Chelsea is on the verge of losing her family home. She'd do anything to save the house—and herself—even marry the sexy playboy.
Now it's up to them to "play house" and convince everyone that they have perfect little family. But are any of them really pretending?
Amazon Reviewer: This is the third book from Jenna Harte's Southern Heat series and it is fantastic. In fact, it was so good that I read it from cover to cover in less than a day.