I've had a crazy, busy summer, and have ambitious goals for the fall and winter! To finish the summer, I thought I'd have a little fun by having a giveaway for my Sweet Hartes. Not a Sweet Harte? No worries. You can join in the fun for free. I answer your questions, give sneak peaks to upcoming books, have giveaways and more. Visit the Sweet Hartes at Facebook to join now! Then be sure to stop by to see what sorts of fun and goodies will be going on in August.
More news….
I announced on Facebook, that I just received a 3-book deal on my Southern Heat romance series. The first book, Southern Comfort, was the book that sat at Harlequin for nearly 2 years (1 yr, 11 mos, 3 weeks…but who's counting)! Luckily, during the wait I got an agent, beefed up the book and sold it to Penner Publishing! Southern Comfort will be released in January, at which point book two, Southern Persuasion will be due. The third book, Southern Conflict (I may ask to change that title), is due in July.
I'm very excited to have received this deal. Unfortunately, it puts off more Valentine books for a time. My goal is still to have To Love, Honor and Betray: Valentine Book 5 published in September as well as a Christmas Valentine short story in December. I have several other book ideas for the Valentines, but with the three book deal at Penner, I need to get the other two books written. Plus I have a new idea for a cozy that I'm eager to write (probably for NaNoWriMo).
Here is a picture of fall/winter writing schedule: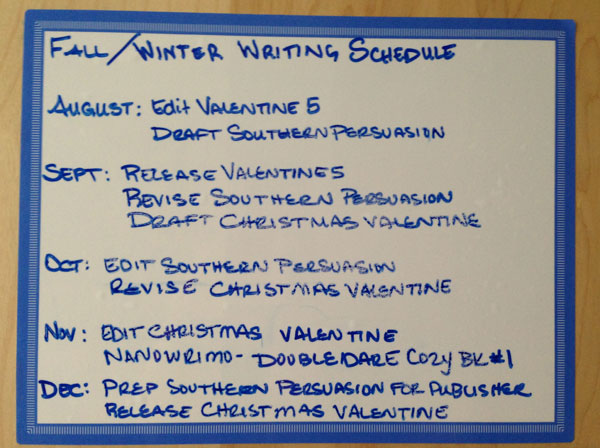 It's a little ambitious, but I can write fast when I clear my schedule and I know what I want to write. I know you might be questioning this as it has taken forever for Valentine 5 to get finished. That has been partly busy schedule and partly plot issues. But starting in August, I'm making a big push to get it done and to my editor before the end of the month.
So that's it for now… I'm off to write and when it's time for a break, I hope I'll see you in the Sweet Hartes group.