The release of Drawn to Her, Book One in the Southern Heat Series is nearly here, and I have a very special offer for book lovers!
From … (date) to …( date)… you can pre-order Drawn to Her from your favorite online book retailer PLUS receive x number of additional bonuses for FREE!
About Drawn to Her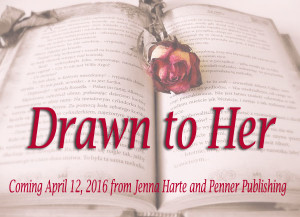 Feisty and outspoken, Lexie McKenna will do anything to protect her cantankerous and ailing patient—even if it means going up against his cold and calculating, but sexy and irresistible grandson. After all, as a nurse, her number one priority is her patient.
Drake Carmichael doesn't trust the nurse who's taking care of his grandfather—despite how adorable and compassionate she seems. He refuses to let her get her grips into their hard-earned money. But as the two square off and begin to battle about what is best for the dying man, Lexie and Drake realize they know very little about each other and that first impressions are deceiving. Once they finally give into their desires, the battle has only just begin.
With a fight between family and fortune, love and lust, will either one be able to find the southern comfort they both truly crave?
The road to publishing Drawn to Her has been along and often hard, so I'm so glad that not only is the release date nearly here, but that preliminary reviews are positive including:
About the FREE Bonuses
To help launch Drawn to Her, and celebrate it finally making it into the world, I'm having a launch special that includes tons of additional freebies. I have some wonderful author friends who have donated books and other cool items for you to enjoy including: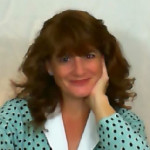 How to Speak Southern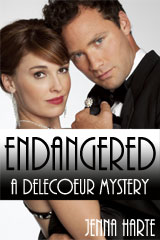 Endangered: A Delecour Mystery
On their wedding day, Max and Madeleine Delecoeur promised each other a life full of passion and adventure. But someone trying to kill Madeleine is not the type of adventure they'd planned on. Now Max and Madeleine are on a race to hunt down a murderer. Is it the money-manager suspected of embezzling money from Madeleine's wildlife foundation or the young man who threatened her after her speech on conservation? Or is it Max's former flame who is carrying a secret that could change Max and Madeleine's happily ever-after? And will they figure out who wants Madeleine dead before he…or she makes her extinct?
How to get Drawn to Her and Your Free Bonuses
It can't be easier to get your free stuff….
Pre-order Drawn to Her from your favorite online book retailer.
Forward your receipt to … @….  Your book will be sent/download on release day, but your freebies will be available as soon as you forward your receipt.
Check your inbox for an email on how to get your free bonuses.
Don't wait. Pre-order Drawn to Her and get your bonuses now!
Please follow and like us: